Choose Showtime to Buy Tickets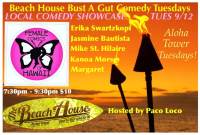 Local Comedy Showcase
Ages: 18+ without parent or guardian
Details subject to change.
WHAT & WHERE: Beach House Bust a Gut Comedy Tuesday Show at Beach House inside Aloha Tower Marketplace
WHEN: Tuesday 9/12 7:30-9:30pm weekly
COST: $10 cover at the door
WHO: This week Tues 9/12 we have a HILARIOUS showcase of talented LOCAL comics! Paco Loco hosts and Jasmine Bautista, Erika Swartzkopf, Margaret, Kanoa Morse & Mike St. Hilaire perform original standup comedy. Tickets available for purchase 1 hour prior to or anytime during the event. This venue has awesome drinks, no food but you can bring your own food in to save money. Please support LOCAL standup comedy in Honolulu!