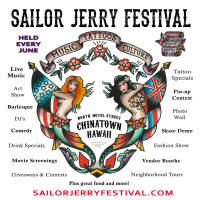 Sailor Jerry Festival - 2023
Going full-scale once again!
Time: 8:00pm Day: Saturday Doors: 7:00pm Price: $10 - $25

 June 17th, 2023 is all set for an attempt at a return to normal.
 So far we have booked 4 mainland guests and will be lining up a ton of great local talent as usual.
Normally a crowded multi-venue one wristband gets entry to all spots that is held every June.
Due to covid we did a livestream in 2020 and launched an online art gallery in 2021 then a small one venue concert in 2022.
We will fill in more details asap for 2023
SailorJerryFestival.com has more info and merchandise!
Direct link to merchandise:  HERE
Still just $10 in advance! 
(or $15 day of show until Noon, otherwise $20 at the door starting at 5pm)
You can also pre-pay for one of our full-color festival t-shirt designs.
Come to the festival merch booth to choose your size and design.
Back to our normal selves in 2023??!!!  Fingers crossed.
NOTE:  We cannot guarantee admission to every venue at all times, at the discretion of the venue owners. First come first served.
Venues also have different age restrictions. Some are open to all ages, others you must be 18 or 21+ to enter. this info will be made clear on our website and official schedule.
Tell a friend and see you there!
COVID protocols will be followed.  (www.OneOahu.org for more local covid info)