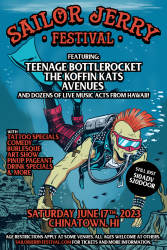 Sailor Jerry Festival - 2023
Going full-scale once again!
Time: 5:30pm Day: Saturday Doors: 5:00pm Price: $10

 June 17th, 2023 is all set for an attempt at a return to normal.
 So far we have booked 4 mainland guests plus a Hawaii band now based on the mainland will return for a reunion, and as always we will be lining up a ton of great local talent as usual.
 (One mainland based act had to cancel as they'll be on the road with the Descendents)
Flying in for the show:
TEENAGE BOTTLEROCKET
THE KOFFIN KATS
AVENUES
GENERIC
THE MINORITIES
EL SANCHO

LOCAL TALENT:  TBA
Normally a crowded multi-venue one wristband gets entry to all spots that is held every June.
Due to covid we did a livestream in 2020 and launched an online art gallery in 2021 then a small one venue concert in 2022.
SailorJerryFestival.com has more info and merchandise!
Direct link to merchandise:  HERE
Still just $10 in advance! 
(otherwise $20 at the door starting at 5pm)
You can also pre-pay for one of our full-color festival t-shirt designs.
Come to the festival merch booth to choose your size and design.
Picking up your wristband:
We will have a check-in booth set up outside Proof Social, near Chaplain Lane / Fort Street Mall.

Bring an ID to claim your admission wristband(s). 

New this year:  Proof Social will have live music inside and we will be setting up a photo wall outside as well.
Age Restrictions:
Some venues allow all ages, many do not. The Venues page of SailorJerryfestival.com has all the info for each location.
Notables:    NextDoor used to allow all ages crowds but they no longer do. Sorry. 21+ only as of 2023. Please plan accordingly.
    The Manifest  -- All ages from 5pm to 9:30pm, then 21+ only.
    Sadly, in 2023 at least, we no longer have use of the arts at marks garage, our primary all ages space.
NOTE:  We cannot guarantee admission to every venue at all times, at the discretion of the venue owners. First come first served.
Venues also have different age restrictions. A small number are open to all ages, others you must be 18 or 21+ to enter. This info will be made clear on our website and official schedule.
Tell a friend and see you there!
COVID protocols will be followed.  (www.OneOahu.org for more local covid info)
 NEED A PLACE TO STAY??
Check out the Wayfinder Waikiki. They've offered a discount via this link...
https://be.synxis.com/?Hotel=34772&Chain=5173&promo=SJFP  (Promo Code : SJFP)