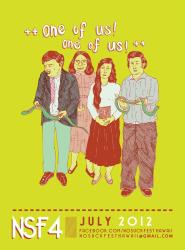 "No Suck Fest"
with Night Birds and Toys That Kill / F.Y.P.
Time: 6:00pm Day: Thursday Ages: All Ages / Bar with ID
This Event Has Ended
July 26, 2012-  Mecury Bar Fest Pre-Party & Potluck 
1154 Fort Street Mall # 10, Honolulu, HI
7:00pm-1:00am (21+ in the bar)
July 27, 2012-  Anna O' Briens
2440 South Beretania Street, Honolulu, HI
6:00pm-1:00am (18+ up to 8pm)
$12 Presale/ $15 Door
July 28, 2012-  Fighters Unlimited Warehouse
905 Kalanianaole Hwy, Bldg 28 Kailua, HI 96734 (On Kaapa Quarry Road)
2:00pm-12:00am (All Ages)
$12 Presale/ $15 Door
July 29, 2012-  Beach BBQ After Party
More info to be announced
BYOB & Potluck
Details and updates @ http://www.facebook.com/nosuckfesthawaii

LOCAL openers:

Pre-party Potluck & BBQ @ Mercury FREE
July 26 // 7PM - 2AM // ALL AGES
DJ Jetboy
Silence The Giant
Never Enough
Temple Fugate
Super Nice
Night Marchers
Red Rocket
Blue Ribbons

Annas $13
July 27 // 2PM - 830 PM (18+)  //  830PM - 2AM (21+)

(18+)
The Bougies
Social Architects
Completely Insane
Haoles
Beaman
Move Minor Standard
False Crack
Black Square
NIGHT BIRDS
TOYS THAT KILL

(21+)
The Sufferers
Mistermeaner
Witch Baby
Pimpbot
13th Legion
TOYS THAT KILL
NIGHT BIRDS

Manifest $13
JulY 28 // 1PM - 8PM // ALL AGES

Miller Boys (at 2pm)
Colour and Contrast
Eddie Murphy's Law
Sing The Body
TV Microwave
Siblings
2face4
The Substitoots
FYP
NIGHT BIRDS
TOYS THAT KILL

///////////////////////////////////////////////////////////

MAINLAND BANDS +++++++++++++

TOYS THAT KILL / F.Y.P
https://www.facebook.com/toysthatkil
http://www.facebook.com/pages/FYP/106139996083627

NIGHT BIRDS
https://www.facebook.com/NGHTBRDS

**TTK + NB will be playing BOTH Friday + Saturday!
Toys That Kill
Toys That Kill formed in San Pedro, CA from a previous incarnation known as
F.Y.P
(1989-1999). Just after the release of their last album entitled, strangely enough, Toys That Kill, Todd C., SEAN C. and some new guys (Chachi and Jimmy) started the new band. Although the music varies greatly from F.Y.P to Toys That Kill both bands have been influential in the DIY punk scene since the late 80's.
Toys That…
Night Birds
Night Birds is a surf-influenced punk band from Jersey Shore, NJ / Brooklyn, NY.
Night Birds on Last.fm
.
User-contributed text is available under the Creative Commons By-SA License and may also be available under the GNU FDL.