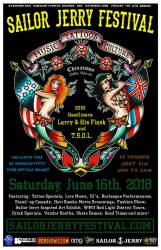 808shows.com / Hawaiian Express Records and 86Productions present:
The 4th Annual SAILOR JERRY FESTIVAL
Honoring "Sailor Jerry" and his Chinatown roots
featuring live music, documentary movie screening, pin-up party, art displays, live tattooing, standup comedy, cabaret performances, chinatown tours, and more!
Time: 6:00pm Day: Saturday Doors: 5:45pm Ages: 21+ Ages Price: $10 - $60
This Event Has Ended
Thank you for your support!

The 4th annual Sailor Jerry Festival -- Saturday June 16th, 2018
To be held at multiple venues on and around Hotel Street in Oahu's Chinatown district.
The Sailor Jerry Festival is an Annual Event celebrating the life and loves of Norman "Sailor Jerry" Collins... o
r Norman Keith Collins, NKC, Old Ironsides, etc.

Norman "Sailor Jerry" Collins wasn't someone who needed to find ways to pass the time; he was a man of a million fascinations.

Many are surprised to learn more about him once they start to research his legacy and we'd like to help more people do so. Not necessarily a saint (he lived in a different time after all) his influence and innovations are undeniable.

This festival aims to honor his life, career, and that global influence... right where the legendary man spent so much of his time... Oahu's Chinatown District.

The brainchild of Jason Miller from 808shows.com / Hawaiian Express Records, who later brought in "Josh86" from Downbeat Diner & Lounge (as well as numerous musical endeavors) the Sailor Jerry Festival was at first tentatively titled 'The Old Ironsides Music Festival' back in 2013. Since it will be more than just music, the name was changed for year one, which took place on June 12th, 2015.

These are some of his stomping grounds. Respect that. Respect him. Let's celebrate what he did here.
Be advised: We have a zero tolerance policy for any shenanigans. Take care of the neighborhood.

Will call tickets & packages can be picked up at THE ARTS AT MARKS GARAGE on the corner of Pauahi & Nu'uanu starting around 6PM.
Just bring your ID.


Advance ticket sales will end by 10am and then we will start selling them again at the entrance to select venues when doors open.
Again, if you got a presale ticket, bring an ID any time after 6pm to The Arts at marks Garage to claim your wristband.
 If it's after 10am on Junbe 16th, online sales have ended but we will have plenty available at places like NextDoor, Madre Chocolate, and Downbeat.
2018 Headliners -- T.S.O.L. and Larry & His Flask

Check our facebook page for the latest info!!
They also play at Anna Obriens on 6/15 (21+ show)
Note:
FRI -- TSOL plays last
SAT -- LAHF plays last
Summary:
Live Music & DJ's

Standup Comedy

Burlesque/Cabaret performances

Teaser tours by HonoluluExposed.com

Fashion Show by Twisted Cuts

Hori Smoku documentary movie screening

Art Show (on display June 16 - 30)

Get tattooed at Old Ironside Tattoo, Black Cat Tattoo, or The Naughty Vegan!!
Some classic cars and other vehicles on display outside each tattoo shop!
Reserve space... Get tickets now!

Cost:
All venues wristband: $10
Bring ID to pickup


Visit the facebook page as well: 
http://facebook.com/SailorJerryFestival 
or our official page -- SailorJerryFestival.com

Note:

 Details are subject to change.
It happens from time to time. Sorry. Come enjoy yourself regardless! This is always FUN!!
Lastly... Mark your calendars... we'll be doing it again each year in Mid-June!