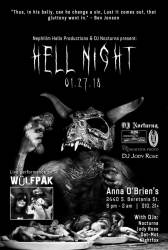 Hell Night
Time: 9:00pm Day: Saturday Ages: 21+ Ages
This Event Has Ended
NEPHILIM HALLS PRODUCTIONS AND DJ NOCTURNA PRESENT THE FOURTH ANNUAL HELL NIGHT, SATURDAY JANUARY 27 AT ANNA O'BRIEN'S
 
Honolulu (January 2018) – Nephilim Halls Productions, in collaboration with DJ Nocturna, are proud to announce the Fourth Annual Hell Night, a night that will bring all your darkest, most devilish dreams to life, on Saturday, January 27, 2018 from 9 p.m.-2 a.m. at Anna O'Brien's. Cover is $10, ages 21 and over are welcome.
In a nod to the legendary Hell Nights of San Francisco, New York and other mainland cities that were so popular among the darker subcultures back in the day, Honolulu's own Hell Night is a haven for all those who love Halloween, the diabolical and macabre, classic horror movies and dark alternative music.
DJs Nocturna, Jody Rose, Dat Mot and Nightfox will set the stage with classic goth, deathrock, postpunk, rock, metal and dark alternative music.
This year, don't miss a set by featured band WÜLFPAK, a Honolulu rock/heavy metal band founded in 2014 that plays all original music, mostly rooted in traditional 80s hard rock.
The hard-hitting trio of WÜLFPAK is headed up by longtime music scene veteran and "guitar doctor" Ceddie Blaze on guitars and vocals, with Tommy "T Styxx" Kidani on drums and vocals and Jason Pak on bass guitar and vocals.
Dark/fetish/hellish/devilish or horror attire encouraged.
Cover: $10
21 and over are welcome.
Doors open at 9 pm
Flyer photo by Nightfox Photo , effects & graphic design by Obsidian CMYK.
For more information, visit www.NephilimHalls.com or Nephilim Halls Productions on Facebook at facebook.com/NHPRD.